Kimberly McGhee has been serving as a Senior Cyber Analyst at COLSA for the last 8 years. "I work with an awesome team, and I am on an awesome contract here at COLSA". Her journey began in Fort Benning, GA, where she embarked on a remarkable career transition. Originally pursuing education as her major, Kimberly's path took an unexpected turn as she shifted her focus to information systems. This shift was influenced by a coworker who ignited her interest in the realm of IT, even before she fully comprehended its intricacies and broader implications. As she delved into the world of information technology, Kimberly discovered a genuine passion for the work, motivating her to wholeheartedly commit to and excel in this evolving career path.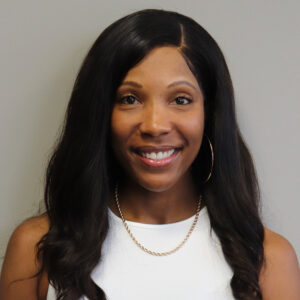 When asked about one of her favorite projects she has worked on at COLSA, she mentioned one of our major contracts working on Uncrewed Systems. Working on this project from the inception, Kimberly received so much insight on a new and innovative program. The project's distinctiveness allowed Kimberly to amass a wealth of knowledge spanning the entire spectrum of engineering and cyber aspects. As the program progressed, and the product moved into the testing phase, she witnessed firsthand how COLSA's efforts culminated in the creation of something that had the potential to revolutionize the capabilities of uncrewed systems for our clients. "Being there and being able to be hands on, watching them actually build it" was one of her highlights. According to her, the enjoyment of collaborating within an exceptional team and the opportunity to learn from her colleagues has been a delightful experience. This environment enabled her to delve into previously unexplored domains, broadening her knowledge and skills. This, combined with the satisfaction of observing the transformation of this uncrewed system from conceptualization to operational implementation, stood out as one of her most cherished highlights.
We asked Kimberly about a pivotal point in her career and something she has learned. She described an opportunity she received to shadow various on-site teams, observing their operational methods, which significantly contributed to her skill set enhancement. "I think it's really interesting to see how hackers truly hack". During this time, she had the privilege of observing these teams engage in simulated attacks and counterattacks on different systems. This exposure left a lasting impression on her and provided her with insights into a previously unexplored realm. Because she had a focus on the risk management framework, she realized that gaining an understanding of these different aspects would greatly benefit her approach to her role, enhancing the effectiveness of her work.
Encountering workplace challenges is a common occurrence. When asked about hurdles she's encountered, Kimberly discussed the rapid learning curve and the dynamic nature of being assigned diverse projects or programs, particularly those where she initially lacked direct experience. She acknowledged that despite working within the realm of cyber, there can be variations in approaches. She talks about an experience where she had to delve into extensive research to align her skills and capabilities with that of the new organization. This experience instilled in her a valuable lesson in adaptability and the strategic alignment of her skills to tackle novel challenges effectively.
The advice Kimberly offers to those starting out in their career is mentorship. "Find someone that is skilled in your area of interest" and gain as much insight from them to help propel you on the right career trajectory. Additionally, she emphasizes the paramount importance of selecting a domain that genuinely resonates with your passion, concentrating your efforts on it, and actively pursuing certifications to enhance your expertise. "It can truly elevate your career and set you apart, showing that you have taken the initiative to go a step above."
---