Diana is a COLSA Cyber Analyst supporting both the Army Aviation and Missile Command (DEVCOM AvMC) in Huntsville and the High-Performance Computing Modernization Office (HPCMO) in Vicksburg, Mississippi and Aberdeen, Maryland. Her natural inclination towards computers and a talent for organization, led her to pursue a career in computer science. While in college, she made a deliberate choice to study both criminal justice and cyber security, as her heart was set on law enforcement at the time. However, she knew that cyber security was an area of interest, so she pursued it as a backup plan. After obtaining her CompTIA Security+ certification, she transitioned from law enforcement to cyber security and has been thriving in this field ever since.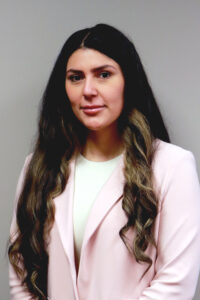 When asked about her favorite project, Diana was thrilled to be part of one of the first Red Hat Linux teams responsible for developing and enhancing the cyber security posture for HPCMO projects. "High-Performance Computing labs are super fascinating," Diana remarked, expressing her enthusiasm for this intriguing project. She felt honored to be part of a groundbreaking team entrusted with securing these labs.
According to Diana, her employment at COLSA has been a valuable learning experience, both personally and professionally. She expressed that the people she works with are supportive and all about helping her achieve success. "The people that I work with truly encourage you to grow and want you to succeed, and that is not something that I had experienced before". Diana appreciated the willingness of her colleagues to share their knowledge and teach her new skills. Her growth can be attributed to the opportunities provided to her, which have helped her advance in her career. Diana feels a sense of belonging at COLSA and has formed lasting relationships with her colleagues, whom she considers as family. She knows she can count on them to help her with any task.
Every job comes with its own set of challenges. Although Diana knew the concepts pertaining to her job, she sometimes needed help with the hands-on portion. Despite being new, she wasn't afraid to ask for help and made sure to ask the right questions to learn every step of the way. "I am very grateful that I work somewhere where that I can ask questions and get answers."
Diana, a seasoned professional in the cyber security field, suggests that individuals entering this field should listen to advice from those who have their best interests in mind. If someone advises you to learn something new, read up on a certain topic, or obtain a particular certification, it may be a steppingstone for your career growth. Diana herself has acted on advice given to her and has found great success in her career as a result. "Because I have acted on that advice that I have been given, I have been able to be more and more successful in what I do".
With the flexibility in her schedule, Diana finds plenty of time for personal pursuits. In her free time, she likes to spend time with her husband and dogs. She also likes to enjoy the outdoors and takes the time to be around the people that she cares about.