National Space Day, celebrated on the first Friday of May every year, is an annual event in the United States that aims to promote the importance of space exploration and inspire young people to pursue careers in space-related fields. It is a day that celebrates the milestones of space exploration, the advancements of technology and science, and the brilliance of human spaceflight missions. It also serves as a reminder of the challenges and opportunities that come with space exploration, including the need for international cooperation and the potential for it to benefit humanity.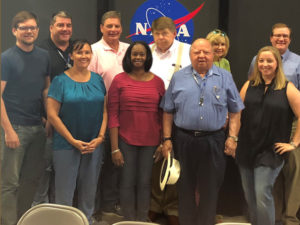 As a leader in advanced technology and engineering solutions in the Federal Sector, COLSA recognizes the importance of National Space Day and is committed to supporting efforts for space exploration. For decades, COLSA has significantly contributed to space programs by providing extensive support to NASA through manned and unmanned spaceflight missions to the International Space Station (ISS).
COLSA's team of experts specializes in Systems and Software Engineering, consistently delivering value-added solutions that further space exploration. Our contributions include engineering local and remote services that support NASA spacecraft, payload, satellite, and propulsion systems. At COLSA, we pride ourselves on having a team of experts with a broad range of skills and knowledge, ensuring mission success in space's complex and challenging environment. By investing in cutting-edge technology, COLSA stays ahead of the curve and develops innovative solutions to the unique challenges of space exploration.
COLSA's commitment to space exploration doesn't end with space programs; we also support STEM education and encourage young people to pursue careers in space-related fields. As a proud sponsor of the Alabama School of Cyber Technology and Engineering (ASCTE), one of three tuition-free schools in Alabama, COLSA is invested in promoting computer science education. Through internships and partnerships with universities and educational institutions, COLSA provides opportunities for students and employees to gain experience in space-related projects.
COLSA's commitment to the space industry, STEM education, and inspiring the next generation of space explorers demonstrates our belief in the value of space exploration and its potential to benefit humanity. We are devoted to value-added solutions leading to the stars and beyond.