Randall's impressive background in math and experience in the Navy has led him to become a valuable member of the COLSA team as a Data Scientist. After attending Auburn University and pursuing his Bachelors and Masters in Math, with a minor in French, he decided to join the Navy where he had the opportunity to enter the nuclear power officer candidate program, a program for college students in STEM fields who wish to serve as commissioned Navy Nuclear Officers. During his stint in the Navy, he also taught physics and reactor principles, while being a division director over the multimedia division. During this time, he started and completed his Ph.D. In addition to his academic achievements, Randall's time in the Navy allowed him to gain valuable experiences in leadership and teaching, which have undoubtedly contributed to his success in his current role.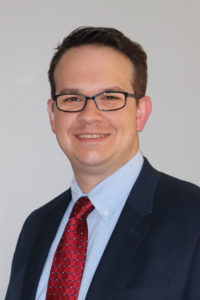 Randall says that "my first love is math and proving math theorems" and with his background in math and his interest in artificial intelligence and machine learning, it's no wonder he was drawn to opportunities within the Huntsville area. Huntsville, Alabama is known for its technology and defense industries, making it a hub for professionals in these fields. He realized this and wanted to find a more marketable way to use his skills while continuing to serve his country in whatever capacity he could. With COLSA always in the back of his mind, he knew working for COLSA would give him the opportunity to make a meaningful impact while utilizing his expertise in math. When the opportunity finally presented itself to apply to COLSA, he utilized his networking skills to land the position.
Randall seems to have found his ideal job at COLSA, where he can utilize his math knowledge to develop new applications. He mentions that "the work is very rewarding" and this is a testament to how much he enjoys what he does. He goes on to speak about a particular project where things began to stall but he saw that the outcome was achievable. He was able to showcase his skills and bring his idea to life and make it work, which was a fulfilling experience for him as well as his team. Randall loves that COLSA offers him the opportunity to work on various projects and come up with ideas, which he can then develop and feel a sense of accomplishment when they succeed. It's clear that he is passionate about his work and is excited about the projects he gets to work on.
"At COLSA I feel like a true mathematician that's also a Data Scientist, which is a good feeling". Randall's positive experience at COLSA is a testament to the company's investment in its employees. By providing new hires like Randall with the resources and support they need to succeed, COLSA fosters a culture of learning and growth. Randall's willingness to be honest with his supervisors is also a key factor in his success. By being upfront about his abilities and areas where he needs improvement, he can receive the guidance and training he needs to excel. This approach also allows him to build strong relationships with his supervisors, which in turn helps him feel more connected to the company and its mission. Overall, Randall's experience at COLSA demonstrates the importance of investing in employee development and fostering open communication in the workplace.
Randall's advice to those entering the Data Science field is to utilize the variety of resources available to help you build your skills and knowledge. He says it is important to remember that you must love what you do because loving what you do can help you stay motivated and committed to putting in the hard work necessary to succeed.
Randall says that because of COLSA's wonderful work-life balance, he is able to continue in his pursuit of self-growth. Although he's put his performing career on hold to become a career and family man, he still enjoys the occasional karaoke performance. He also still likes to work on his math and play video games in his spare time.