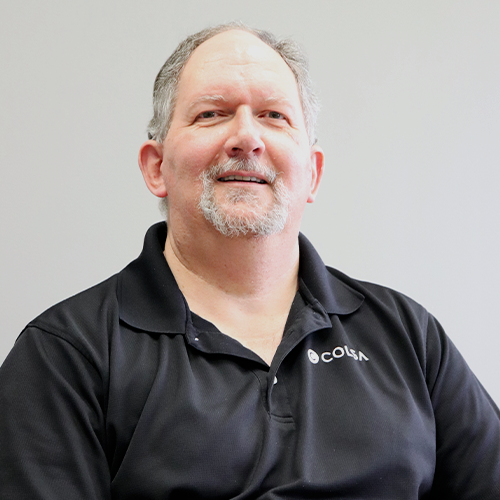 Meet David Johnson. David has been working with us since July 5, 1983, shortly after Frank Collazo uprooted his garage start-up and established COLSA's first office building. He started as a Computer Scientist, then made his way to Systems and Software Analyst, and has worked as a Quality Engineer ever since. In honor of our 40th anniversary as a company, David spoke with us about the 37 years he has spent as a COLSA employee.
Who is COLSA?
That's sort of a philosophical question because anyone who is a COLSA employee working with their customer at an onsite or offsite location, you are representing COLSA to your customer.
We all play a role in representing COLSA's culture. Who is COLSA? We all are COLSA; the employees are COLSA. No matter the position, you represent COLSA in the eyes of our prospective customers.
What hasn't changed about COLSA?
One thing that has not changed about COLSA is providing quality products and services to the customer. That is something that Collazo has embedded into employees since day one. COLSA is thriving now, and for the past 40 years, for many reasons.
Collazo is an excellent businessman. He has hired good people and has good people working all around him. We're a family of professionals with a nice working environment that Mr. Collazo has provided to thrive and support our customers with those quality products and services.
Mr. Collazo is a very humble man and has never wanted to be in the forefront; the customer always comes first, and that's why COLSA has been around for 40 years. He has encouraged the employees to give back through community service. For example, for five years in a row, he supported Habitat of Humanity in building five homes. I participated in installing the siding the first year. The following four years, I led the team in cutting and assembling the wood needed to make the houses' frames. We put together five complete homes and were able to give back through community service.
Mr. Collazo's wisdom as a business leader, the environment for employees to thrive and grow, and giving back through community service makes COLSA what it is today.